How to Choose the Right Carpet for Your Home or Office
Date Posted:28 January 2020
Whether you're replacing some worn-out carpet you've had for too long or carpeting a new room for the first time, it's worth looking into the available options out there in the present market.

Buying carpet can seem overwhelming, but when you have a good understanding of the more common carpet styles and fibres, you'll be equipped with sufficient knowledge to make a successful purchase.

When it comes to selecting a carpet, crucial things to consider include whether it's easy to maintain and if it fits your allocated budget.

In the end, it all boils down to the material the carpet is made of. Different materials provide different levels of softness and comfort, and each is priced accordingly.
Purchasing the wrong carpet can be an expensive mistake. To help sort through the possibilities and narrow down the best carpet options your home or office space, you'll want to consider the following.
The material of the carpet
No single fibre is best for everyone – the best carpet choice for you depends on where it will be placed, how much traffic it will get, who'll use it, and the size of your budget.
Wool carpet
Wool carpet is durable, warm and luxurious, though it tends to be more expensive than other fibres. Wool is great for living areas where appearance is essential. It's naturally resistant to liquid-based spills and releases dirt easily, but you'll want to clean up spills quickly.
Nylon carpet
Nylon is durable and sturdy man-made fibre. It's a popular carpet choice as it's cheaper than wool and can look just as good and boasts added stain resistance. Nylon carpet will retain its colour through cleaning and sunlight. Nylon is ideal for use in high traffic areas.
Polypropylene carpet
Polypropylene carpet is a synthetic fibre, popular because it's water-resistant, durable and inexpensive. It's often used for garages, rental properties or playrooms. One thing to note would be, it does look and feel cheap – because it is.
Blends
A blend of wool and nylon can give you the benefits of both, at a lower cost than a pure wool carpet.
Before you hit the shops
Remember, it's not only about aesthetics.

Having an idea of the colour and type of pile you want is important. Generally, it's recommended that you get professional carpet cleaning done once a year – the right pile and colour can help conceal dirt and stains in between cleaning.
Dark colours hide stains well but show lint.
Lighter colours are fantastic for small rooms, as they'll make the room seem larger, but they will show more stains than darker shades.
Speckled carpets with darker and lighter fibres will disguise stains and lint. The downside is that some people think they always look dirty, even when clean.

Keep in mind that if you're looking for colours online, they may look quite different in real life.
Types of pile
Loop pile carpet has discreet strands of yarn pulled twice through the carpet backing to create a small loop. It has a more casual look and is well suited for high traffic areas, as it hides footprints better.
Cut pile carpets have loops which are cut at the peak, leaving behind clumps of yarn that stand straight up. This gives a more elegant, formal look than loop pile, but tends to show dark and light areas more readily, including footprints and vacuum cleaner tracks.

In the shop
There are a few things to check to make sure your carpet is up to the job.
Density
Density is the amount of pile yarn a carpet consists of, and how close the tufts are to one another. Density should be checked by bending the carpet sample in a U shape with the tufts facing outwards. The less of the carpet backing you see, the denser the carpet. Keep this in mind, the denser, the better.
Durability
Durability is the quality of the fibre and the density and construction of the carpet. For the average person, this can be quite hard to gauge.

The Carpet Institute of Australia has developed the Australian Carpet Classification Scheme (ACCS). It's a voluntary industry grading and labelling system for carpets of all fibres and is used by major suppliers.

Carpets carry a star-rating out of six, they are:
1 star – Light duty
2 star – Medium duty
3 star – Heavy-duty (lower to mid-range)
4 star – Heavy-duty (mid to higher-range)
5 star – Extra heavy-duty (lower to the mid-range)
6 star – Extra heavy-duty (mid to higher-range)
Try before you buy
Lighting and surrounding materials and colours will influence how your carpet looks in your home or office space. Take samples and check them in each room under artificial lighting as well as natural daylight.
Underlay
Underlay assists your carpet in lasting longer, absorbs sound, covers minor bumps and holes in the floor and provides insulation.
Generally, you'll probably choose between rubber and foam underlay. Underlay differs in quality, so stand on it to test that it feels comfortable and firm – you shouldn't be able to feel the floor with the heel of your shoe.
Installation
It will usually be cheaper to have the carpet installed by the company you buy it from. Be sure to get a fully itemised quote – most quotes from retailers will include underlay and installation, but they won't always include shifting the furniture.
How much do carpets cost?
Carpets are commonly priced by the broadloom metre. Remember to convert to square metres when comparing carpet prices to other floor coverings such as timber or tiles.

On average, polypropylene carpets can range from $65 to $180, wool carpets can range from $140 to $ 500, and nylon carpets can range from $125 to $300.

It can be worth buying an extra carpet or keeping offcuts in case you need to replace worn carpet in the future, especially in high traffic areas, such as stairs.
Cleaning your carpets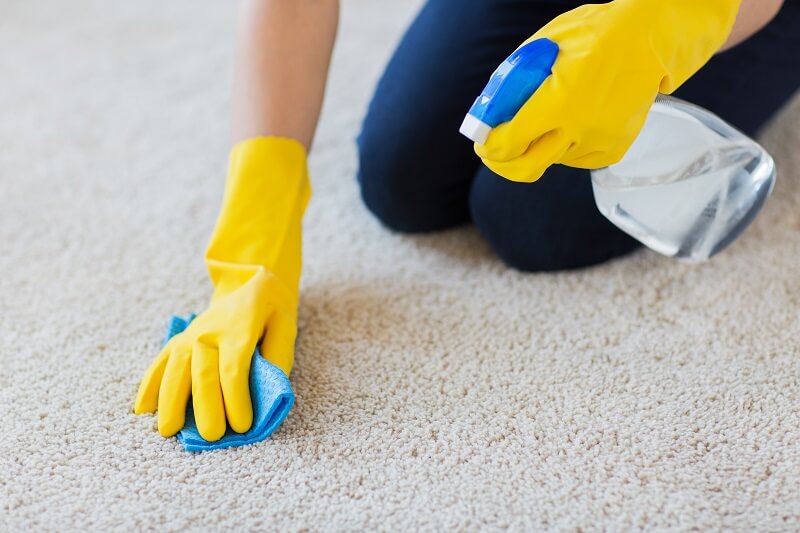 Having clean carpets is an essential requirement in keeping a healthy environment for your family or office. If you have children in your home, having a clean environment for them is a must.
It is going to be crucial to choose a carpet cleaning product which is going to be effective as well as safe for your health, the latter being more important.

Health risks of having dirty carpets
To the naked eye, carpets can appear to be clean; they can be a host to microbes, bacteria and other irritants. Below is a list of health issues which can come from or be made worse by dirty carpets.
Skin issues
Weak immune systems
Respiratory issues
Why are health conscious carpet cleaners necessary?
Safe and health-conscious carpet cleaners deserve homeowners attention. Nowadays, the market is rife with a multitude of cleaning products and machines, but very few are concerned about health risks.
It is essential to find a product which can wipe out tiny particles of dirt from the fibre of a carpet efficiently.
To learn more about carpet cleaning, click here.
Where does That's Awesome come in?
When it comes to home carpet cleaning, check out products such as the Carpet & Upholstery Cleaner Kit and Stain Remover from That's Awesome.
They are made of natural enzymes and substances which can dissolve grime and dust instantly, and clean without leaving any dirty residue. These organic cleaning products are robust and fast-drying. They are biodegradable, non-toxic and water friendly. Most importantly, they're safe for!
That's Awesome has outstanding cleaning machines for carpet care. Worthy of mention is the Medusa Battery Powered Sweeper and F25 Floorwasher which feature an advanced filtration system.