Leather Cleaning And Care - Tips
Date Posted:19 December 2019
Leather goods require regular care and maintenance if you want a clean, polished look that's free from natural wear and tear, scratches or blemishes. Knowing how to clean and treat your leather helps you keep your leather goods in tip-top shape. There is a lot of different advice out there – some good and some not so good – so here at That's Awesome we thought it only best to do the footwork for you and help you discover the smartest, most effective way to clean your leather!
Below is a photo of a leather saddle that had been left outdoors for 15 years. See for yourself the drastic results after being cleaned and conditioned with our Leather Care System!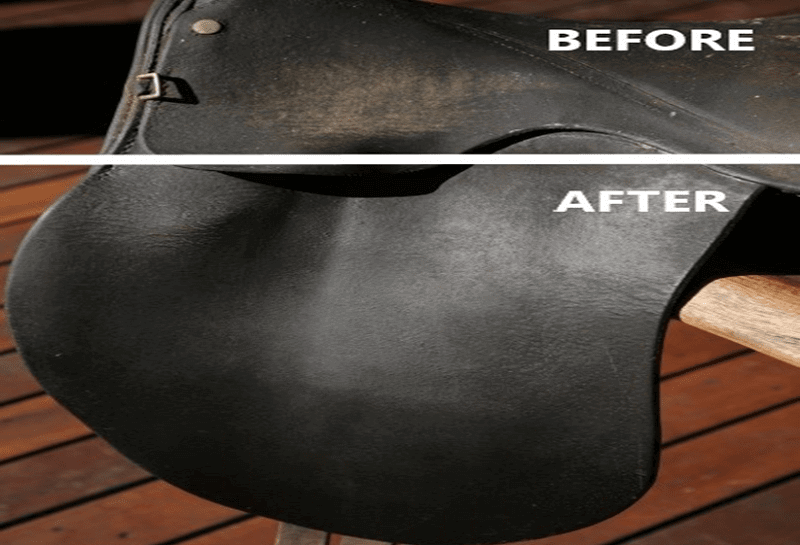 1. Clean regularly with a damp cloth
Firstly, cleaning leather goods frequently is extremely important; about once a week, a wipe down is required to prevent the leather item from aging prematurely. Leather products like jackets, shoes and bags tend to accumulate dust, dirt and other abrasive particles quickly, so keep it free from all those nasties with a wipe down. The old advice used to say to use a damp cloth, but a dry cloth is best to keep moisture away. For products like upholstery or leather furniture, you'll want to use a vacuum cleaner; attaching a soft, clean brush and ensure that no dust or dirt remains on your leather after cleaning. As important as this step is, a general wipe down or vacuum is not going to clean or protect your leather on its own – some extra help is required.
2. Allow your leather to breathe
Avoid exposing leather to sunlight as it can damage the protective coatings on the surface of the leather. Too much sunlight leads to fading and drying, so to avoid these problems just avoid placing them in the sun.
Allow your leather to breathe! Air can pass through leather naturally, allowing moisture to evaporate. When sealed, your leather products are prone to mildew and rot. As much as possible, avoid storing or transporting leather items in plastic bags. Instead, use either the storage bag the item came with or a breathable fabric; pillowcases are suitable for items such as shoes, bags and other accessories.
3. Treat the stains as early as possible
Any spillages or stains are essential to remove as quickly as possible. Leaving for an extended period can make them tough to remove. With a spillage use a dry cloth to wipe clean, or if the stain is tough and set in, you will need to make use of superior cleaning products like That's Awesome Leather Cleaner and Care.
4. Use the right leather cleaning products
Using the right cleaning product is vital to cleaning and restoring your leather and protecting it from unsightly damage. Be sure to avoid harsh chemicals as they can damage your leather furniture, creating cracks on their surface and reducing the lifespan. Never use cheap multi-purpose cleaners as they usually consist of detergents that have a high or very high pH balance (alkaline which damages genuine leather).
Lots of rinsing needs to be done to remover their stickiness, let alone their inability to dissolve or clean staining, which is either hydrophilic or hydrophobic (water-soluble or oil-soluble stains). Beware of leather cleaners that claim they are safe and still contain detergents or harsh chemicals and always test in an inconspicuous area first for colour fastness and toxicity (if it has a high toxic smell, it usually means there is lots of rinsing agents and high damaging alkaline present).
Don't be tempted to use food condiments such as vinegar, olive oil, black seed oil or strangely enough mayonnaise and butter – only good for eating, not suitable for cleaning! These ideas cause damage and allow bacteria and mould to grow. It's important to use water-soluble designed products to clean and protect all your leather goods.
5. Know the difference between cleaner and conditioner
Now there are two crucial steps to keeping your leather in the best possible condition cleaning and conditioning. A cleaner is primarily used for removing dirt, oils and stains. However, like our skin, leather needs nourishment; otherwise, it will dry out. The fibrous structure of leather starts to change when it loses its natural oil and moisture, so a conditioner is used to extend the life of the leather by keeping it hydrated, supple and preserving and protecting. The conditioner nourishes and feeds your leather with natural moisturising oils and protective waxes. However, not all conditioners are appropriate.
6. Oil, feed, and nourish the leather
Neat's-foot oil, Mink oil and emu oil were all once considered suitable for conditioning leather.
Neat's-foot oil has been known to have some disastrous results. After using this product, many people have become disillusioned and concerned as they have found that their leather goods have become brittle. This is because Neat's-foot oil is extracted from the shin bones and feet of cattle and tends to oxidise and works in reverse rather than moisturising your leather goods. Mink oil is a by-product of the fat from minks' pelt and is a source of palmitoleic acid, similar to human properties. Emu oil comes from the native Australian bird. Emu oil is bright yellow and is mostly fat derived from below the skin of the bird.
We do not need animal derivatives for our use in cosmetics or cleaners. This practice is out of date and does not fit the ethical standards of the world today. Luckily for us, there are many other natural moisturising oil options in our market today, that are proven to be more productive and cruelty-free. Some effective oil options are sustainable palm oil, shea butter, lemongrass and lemon oil. One oil that stands out time and time again and has proven itself to be the best and most effective natural conditioner and protector is beeswax and honey formulations. That's Awesome Leather Conditioner uses beeswax impregnated with honey and other sustainable natural oils and bio-degradable ingredients as part of the exclusive formulation.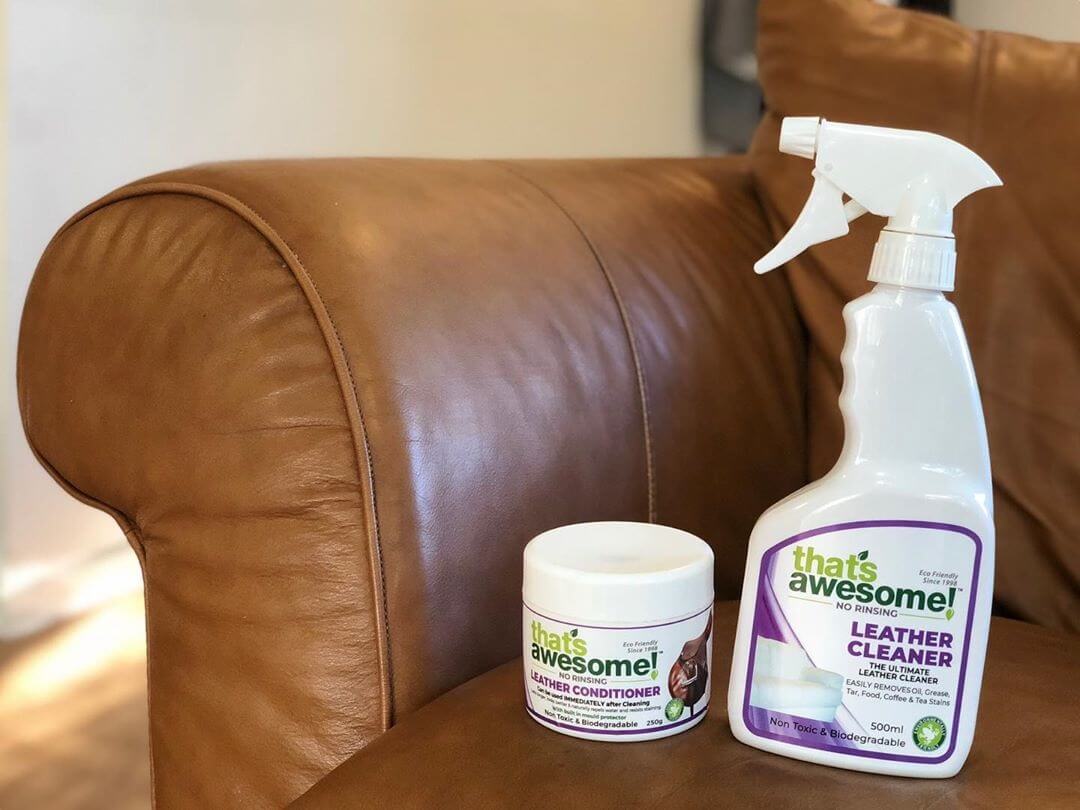 Why choose That's Awesome?
That's Awesome Leather Cleaner and Conditioner are specially formulated to clean and protect your leather goods to the highest standard possible without using silicones, harmful solvents and all our products are cruelty-free.
Leather is simple to take care of once you know the truth! Here at That's Awesome, you'll find all you need to keep your leather goods looking as good as new. That's Awesome Leather Cleaner has been proven to easily remove and lift dirt and grime without damaging chemicals, giving you a superior clean! ?That's Awesome Leather Conditioner nourishes and protects your leather from further damages, fights against grime and helps to resist staining. We also supply our Soft Cleaning Brush to be used in conjunction with the leather cleaner, which agitates and lifts dirt and grime, and our White Microfibre Cloth to wipe clean and buff your leather items with our conditioner.