How to Clean Your Industrial Kitchen Effectively
Date Posted:19 December 2019
Traditional approach and advice
Whether you run a restaurant, resort or corporate kitchen, maintaining a clean work environment is vital. According to the Centers for Disease Control and Prevention germs that cause food poisoning can survive and spread throughout your kitchen, and more than 50 per cent of foodborne outbreaks and illness are linked to restaurants.
Keeping your kitchen clean is the first step to stop the spread of germs and reduce the risk of containment. Below we have provided a cleaning checklist, including tips and solutions for keeping your industrial kitchen running germ-free.
Tasks during your shift
The following points are commonplace for most kitchen staff. Often, they'll come as second nature and be subconscious actions, worked into the shift.
Empty trash bins
Switch cutting boards
Regularly change dishwater and cleaning rags
Brush grill between cooking red meat, fish and poultry
After each cooking shift
Having a full rundown of what cleaning needs to be done after each dinning period ensures no gap in cleanliness and seemliness handovers. We suggest assigning every staff member with some tasks and provide a way to track them so no one doubles up and things are left untidy.
Brush the grills and clean the fryers
Empty and clean sinks, putting cleaning rags in the laundry
Wash and disinfect all surfaces including cutting boards
Wash floor mats
Sweep and mop the kitchen floor
Sweep walk-in refrigerator
Daily tasks
These are some of the things which have to be cleaned or changed out daily:
Wash your everyday equipment (e.g. coffee machines)
Clean hood filters, following the best practice for your models (e.g. hinged hood filters can be dish-washed)
Clean out grease traps
Change foil linings of your range, grill, and flattops
While the above list covers some of the key areas, you need to clean during your shift don't overlook any areas that food comes into contact with when it comes to your cleaning. We've outlined how to clean a few of these areas in greater detail below:
How to clean sinks
Though not always evident to the naked eye, in time, kitchens sinks can become a breeding ground for germs with its mix of stagnant water and its continuous exposure to food waste.
Clean your sinks using industrial but non-toxic cleaning supplies such as That's Awesome BBQ & Stainless-Steel Cleaner which dissolves grime and is antibacterial.

How to clean microwaves
To get rid of smells and remove food stains from inside your microwave, place a microwave-safe bowl inside filled with approximately two cups of water and let run for two to three minutes. The steam will dislodge caked up food and oil, making it easy for you to wipe down with an antibacterial cleaner and a dry cloth to sanitise and remove any odours.
How to clean dishwashers
Ignoring your dishwasher allows its piping to be clogged with food scraps, creating bacteria-filled water that your system has no choice but to use. Cleaning your dishwasher regularly not only ensures your dishes are kept clean and sanitised but ensures no faults or breaks due to blocked piping. After running a cleaner through the pipes ensure that you scrub down the door and seal thoroughly using a non-abrasive sponge and antibacterial cleaner before wiping with a damp cloth.
After your dishwasher finishes each load of dishes, be sure to leave the door open for around 10-15 minutes to reduce humidity and eliminate any odours or bacteria.
How to clean an oven
Use a non-toxic but industrial anti-bacteria strength cleaner to ensure your ovens are cleaned. Always remember to follow the solutions instructions and consult with your company and oven manufacturer if you have any doubts.
Ensure the extractor fan is turned on, or the window is open to allow proper ventilation.
Keep paper towels underneath the oven door because to catch any residue from the cleaning solutions.
Remove your oven shelves and soak them in warm water and industrial-strength cleaning solution.
Use a strong, but non-toxic cleaning spray to cut through grease and sanitise your oven area. Keep in mind not to spray the heating elements or the fan.
Leave the formula to do its work before using a hard-wearing sponge to remove the grease and dirt.
Lastly, use a microfiber cloth to wipe over the entire appliance, using more spray if necessary.
How to clean surfaces
Your surfaces are not only regularly exposed to germs but can also become breeding grounds with food stains and potential cracks or split in surface allowing food and germs to build up. Not only is it important to regularly clean your countertops but to look for any damage to ensure they are fully free from trapped food and bacteria.
Begin by removing any loose items on your counters.
Use a safe, non-toxic antibacterial cleaner to spray your surfaces. Ensure that the spray bottle is held at least 8 inches away from the surface for the best coverage and use.
Allow the spray to sit on for ten minutes to kill all bacteria.
To avoid damaging surface, use non-abrasive scrubbing and scouring pads.
How to clean a fridge
Before you start, consult with your company's producers and when in doubt, contact the manufacturer.
Remove all food items from the fridge.
Check for any spills or food build and scrub with a non-abrasive sponge.
Remove shelves and drawers and let soak in warm and soapy water.
Disinfect and clean the outer areas of the fridge using antibacterial wipes or disinfectant spray, allow to dry then wipe clean.
Spray the inside of the fridge entirely with a multipurpose cleaner. Leave the door open while the solution sets then wipe away using a non-abrasive sponge or cloth.
Cleaning kitchen floors, walls and ceilings
Food particles and grease will easily make their way to walls, floors and ceilings over time. We suggest cleaning your floors daily, while the walls and ceiling can be cleaned every bi-weekly or monthly.
Here are some tips on how to clean your floors, walls and ceilings properly:
Floors – Start by sweeping or vacuuming up the floors to remove dust and hard dirt. Followed by mopping up your floors using That's Awesome Tile & Grout Cleaner. While some do use a machine, a sturdy domestic mop will allow you to access the hard-to-reach corners and spaces with ease.
Walls and ceiling – While it's always a good practice to remove oil and food stains as soon as they happen, grease and oil will still build up over time not only leaving a blemish on your wall but becoming the cause for foul odours and bacteria. Remedy this using That's Awesome Tile and Grout Cleaner to cut through grease alongside a soft cloth or soft bristle brush to scrub off the build-up.
Cleaning storage areas
We suggest cleaning your storage annually around the mid-year point. This includes everything from shelving units and racks to cabinets and pantries.
After all of the items in your storage space has been removed, get rid of crumbs and using a vacuum cleaner or microfiber cloth. Tackle grease, grime and caked on stains using a soft bristle brush and cleaner.
While not a full list, ensuring that your day to day workspace is kept clean using some of these pointers above will ensure a clean and better environment for staff and customers alike. For more resources, be sure to check out the link mentioned at the beginning of this article.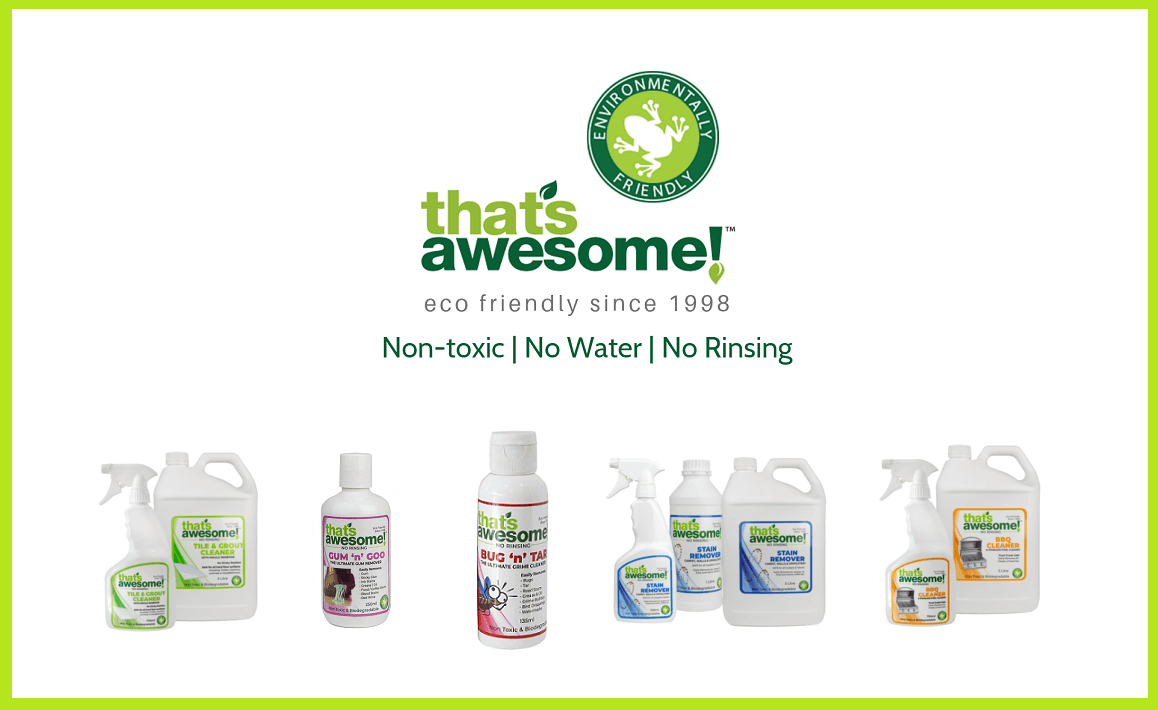 The new approach – That's Awesome way!
As we've seen above, there are many steps to keeping your industrial kitchen clean. That's Awesome Products are here to help simplify the process by providing one product range that does it all.
You no longer need to worry about ridding dirt and germs from your kitchen with caustic and toxic cleaners; That's Awesome BBQ Cleaner is completely safe and non-toxic and will not damage surfaces. The powerful enzymes help to kill germs and bacteria and leave your kitchen looking shiny and new!
That's Awesome products are non-toxic and free from all harsh chemicals, meaning they are food grade safe and you are free to use your kitchen equipment straight after cleaning.
If water is needed, it should be in a controlled manner. With That's Awesome's environmentally friendly cleaning range there is no longer the need to use outdated cleaning methods wasting one of our most precious commodities.
That's Awesome developed their range of products to reflect the new era of cleaning with minimal to no water usage. It is formulated using the science of enzymes and does not have any chemical or detergent residue.
Safely use on your whole kitchen; hot plates, benchtops, ovens, sinks and cabinets are all easily tackled with That's Awesome BBQ Cleaner. Kitchens need the ability to be cleaned in a quick tie with minimal disruption; that's why using our products is a no-brainer! The convenience of being able to use your kitchen and equipment immediately after cleaning is such a time saving and essential asset.
That's Awesome products are completely non-toxic and biodegradable. Save precious time and water with this practical and efficient way of cleaning. That's Awesome also safe to use on stainless steel, BBQ plates, oven glass, plastic furniture, fridge interiors, microwaves, etc.
General (BBQ & outdoor furniture cleaning)
Step 1. Remove food scraps before cleaning and then spray That's Awesome BBQ Cleaner over a small surface area.
Step 2. Scrub stubborn or in-ground grease with a scourer.
Step 3. Wipe off with dry towelling or Microfibre cloth (no rinsing required).
Hot Plates (hydrocarbon and rust removal)
Step 1. Ensure plate is completely clean and grease-free (follow above steps).
Step 2. Spray That's Awesome BBQ Cleaner onto a burnt plate (allow to soak for a few minutes for thicker hydrocarbons).
Step 3. Scrape off all thick burnings with BBQ Scraper and dry with a towelling cloth or paper towel.
Step 4. To remove remaining trace hydrocarbons and rust, respray plate with That's Awesome BBQ Cleaner, scrub in a circular motion. Wipe dry using Microfibre cloth. (Rinse scrub during the process).
Oven cleaning
Step 1. Spray inside oven and oven glass and leave for:
Approximately three minutes in the oven.
Approximately one minute on oven glass.
Step 2. Scrub with a scourer and wipe away with clean towelling or Microfibre cloth
That's Awesome products